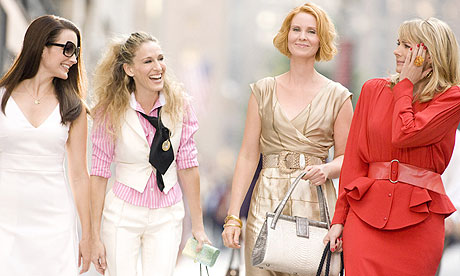 I can hear the screams and cheers and the cocktails getting mixed in their shakers and go and slip on your Manolos. Yes it has ben confirmed all the girls have signed up for the sequel. Micheal Patrick King is of course writer and director, but is has been very hush hush about what is instore for our favourite four girlfriends.
Maybe a baby for Carrie & Big? Samantha dealing with being 50 and single? How is Charlotte and Harry coping with the little ones? And the Brady/Hobbes clang how are they keeping up? The most important question on our mind is...WHAT WILL THEY WEAR!
Patricia Field is already out looking for those key pieces I am sure! It's scheduled to hit screen Summer 2010. I know we can't wait long so until then we going to have to watch all every season and the movie over and over again, like we usually do.
Get your cocktails out and all your favourite girlfriends in (and boyfriends, don't worry we know you secretly like it!) and celebrate! 
The girls are back in town.